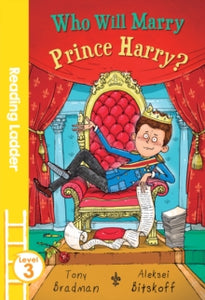 MY Story Tree
Who Will Marry Prince Harry? by Tony Bradman
Regular price
£1.99
Sale price
£4.99
Unit price
per
Tax included.
A funny fairytale with a twist, perfect for children learning to read. From the author of Dilly the Dinosaur. Prince Harry loves lists.
He makes one every day and it's always full of his favourite things to do. But then the King and Queen decide it is time for a change. Now there's only one thing on Harry's list.
He must find the perfect princess ... and get married! A modern Cinderella story - from the prince's point of view! The Reading Ladder series helps children to enjoy learning to read. It features well-loved authors, classic characters and favourite topics, so that children will find something to excite and engage them in every title they pick up.
---