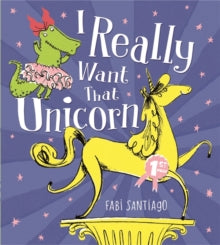 MY Story Tree
I Really Want That Unicorn by Fabi Santiago
Regular price
£1.99
Sale price
£6.99
Unit price
per
Tax included.
Love unicorns? Enjoy talent shows? Pick up this book and laugh yourself horse. A delightfully funny book with the message that friendship is more important than anything. Even unicorns!Chloe the Crocodile is preparing for a talent show.
and not just any talent show. The prize is a Big Sparkly Mellow Yellow Unicorn, and Chloe MUST have it. To win, she must make the best rainbow unicorn cake, the best magic castle, the best fairy unicorn outfit AND give the perfect performance on her unicycle.
Chloe is confident she can win. Until Veronica arrives!WITH PINK FOIL COVER Praise for Tiger in a Tutu:"The saga of Max and his determination to get on the stage reads something like a fun version of Billy Elliot . .
---