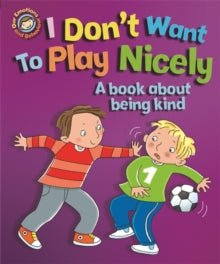 MY Story Tree
Our Emotions and Behaviour: I Don't Want to Play Nicely: A book about being kind by Sue Graves
Regular price
£1.99
Sale price
£7.99
Unit price
per
Tax included.
A gentle picture book that examines the issues of selfishness, aggression and kindness in a reassuring way - perfect for young children who struggle with aggressive behaviour. The story offers a way in to talk about how our actions can make others feel and how we can make that better, reinforcing good behaviour. At the end of the story, there are notes for parents and teachers with suggestions of ways to help children deal with the big emotions they experience.
Finn struggles with caring for other children at school. He can be selfish and he often plays too aggressively. When the other children complain, Mr Hare has an idea.
He chooses Finn as the buddy for Jake, a new boy at school. However, Finn does not help Jake, and the other children become really upset with Finn for being so unkind. Finn is soon left out by the other children and is left feeling miserable and lonely.
---